A recent, 2013 study by
Telemetrics and xAd
, suggests that more and more shoppers are using smartphone and tablet devices for purchase research. The survey sited 50% of respondents saying they start their research via mobile devices and 46% use their phone or table exclusively. If nearly half of all shoppers are starting their buying process exclusively from their mobile device, when will your dealership begin reallocating advertising budget into mobile?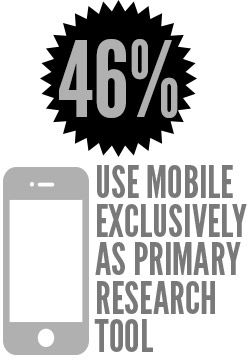 Brand Opportunities For Mobile Websites
Mobile is not the future, it is already here. The sooner dealerships claim their stake and begin exploring the opportunity, the sooner they can capitalize on their local markets mobile boom. Millions are spent on researching this industry and the facts don't lie: 57% of smartphone users go directly to a brand's app or mobile site. In the auto industry, customers are less likely to download an app to browse your inventory or engage your brand. This leaves the vast majority of your mobile audience researching your dealership, its inventory, and reviews from mobile web search and your dealership's mobile web presence. This just reinforces the notion that auto dealerships need to put more focus on creating a better mobile web presence and engaging new mobile advertising opportunities.
Hyper-Local Sweet Spot
Customers on the go have expectations and specific intent when conducting a mobile search. If they can't find you or their experience on your site is slow, they're gone. Your mobile presence dictates conversions and your ability to hyper-target and track advertising effectiveness drives profit / ROI.
Telemetrics
cites local ad relevance
as a primary reason for ad engagement. Broad network advertising is vastly more expensive and dramatically reduces ROI. With 60% of mobile searchers expecting your business to be within driving distance, engaging in mobile advertising that blankets large areas is wasteful. By limiting your reach to very targeted areas, you ensure your ad dollars aren't thrown into the wind...something most dealerships know all too much about.
For the auto industry, most mobile shoppers have intent to purchase an automobile but few know exactly what they're looking for. Just because a customer is looking at a new Jeep doesn't necessarily mean they are bent on a Jeep. A great deal on an alternative SUV or off-road vehicle may spark their attention and ultimately drive a sale. This uncertainty opens the doors for dealerships to leverage local mobile advertising to capture interest. With 33% of shoppers intending to make a purchase within the month or longer, a Jeep dealer wants to do everything they can to keep that customer within their prospect funnel. Non-Jeep dealers want to offer shoppers alternatives and incentives to shop their brand of comparable vehicles.
Beyond search, there are amazing new opportunities for advertising within a hyper-local market. Leveraging popular apps to run branded advertising (and even sending push notifications through these popular apps) keeps your dealership at top of mind with your customer. If every game they play and every mobile news source they read is delivering your brand message, your customers will begin their mobile shopping and research journey with you.
MORAL OF THE STORY:
Nearly half of your customers start their research process on mobile. Creating brand awareness and targeting your hyper-local audience drives customers and improves ROI.
---
Article References: