Recently, I read a
forum post
on Dealer Refresh relating to some dealerships seeing a drop-off in lead generation. Several of the forum comments shared a similar theme that "mobile visitors have increasingly hurt visitor to lead conversion rate..." While the truth is that many dealerships are finding it increasingly difficult to generate leads and convert mobile traffic,
it's NOT because mobile customers aren't interested in buying.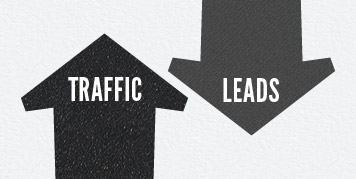 Ok, so we know that mobile obviously represents a shift in the way customers engage media -
more
time on smartphones means
less
time on other media. If nearly
half of your traffic is coming from mobile
and your mobile presence is weak, your lead and sales conversions will obviously suffer. Mobile, as a media channel, has no problems converting traffic. The conversion problem arises when a mobile customer doesn't (or really
can't
) find what they want. As digital car shopping shifts into mobile, it's critical for dealerships to present these buyers with a mobile presence that offers the best possible experience. It's also important to have tools in place to track and squeeze as much information out of a customer without forcing the customer to do more work (or spend more time).
Here's a few keys that we think are important in making sure that mobile is converting leads and not just collecting traffic:
Separate Your Mobile Web Stats From Desktop Website Stats
You'll never know how well mobile is doing unless you track it. A basic understanding of total visitors, time on site, and leads generated is obvious. Better statistics would help you to understand exactly what your mobile customer is doing and why (or why not) they choose to call/submit leads. If you can frame mobile beyond just the basics, you'll be much better equipped to cater to these customers.
Understand How Mobile Converts
Mobile does convert. That doesn't always mean a sale though. It's ultimately up to your BDC and sales team to close. What mobile can do, however, is drive calls, in-store visits, and email lead submissions from active customers. Yes, they are active because they are closer to making a purchase than casual desktop website visitors. The key to converting traffic to lead is: 1. Speed, 2. Call to action, and 3. Ease of navigation/submission.
The key to converting leads into sales is arming your team with the tools to better engage in the sales conversation. Understanding a customer's need, their price range, and trade-in offer will reduce the awkward line of questioning and allow your team to get to the close with fewer barriers.
Drive Quality Mobile Traffic
A million hits to your website doesn't mean a thing if they're from random people all over the country or from people totally uninterested in a new/pre-owned automobile. Organic traffic (visitors who come to your website directly from unpaid natural search engine results) makes some of your job easier. The difficult task often comes from driving quality, ready to convert traffic from paid forms of advertising. Paid advertising is what will help boost your monthly numbers but it requires well-oiled tracking and transparent reports to help you understand your bottom line ROI.
Build a better paid advertising campaign using the latest mobile marketing opportunities and you'll improve your monthly sales.
Make it fast and easy for your customers and they will happily give more information
A simple name, phone number and car of interest won't help you much once the negotiations actually happen. If you were to understand how a customer shopped, what they looked at, and why they chose the cars that they did, then you'd be well prepared to tackle the in-store visit. Your metrics and leads should have this information already in them. Our team puts an emphasis on acquiring just this sort of information without forcing the customer down a lengthy path of huge contact forms, cumbersome drop-down menus, and slow page loads.
So before you conclude that mobile is not converting, think about the tools your currently using and if they're really helping you to define and capture mobile traffic. Buyers are changing the way they shop for cars. It's up to you to realize the opportunity and research solutions.
While you're here, let's start that research right now.
Schedule a meeting
- we're happy to help.