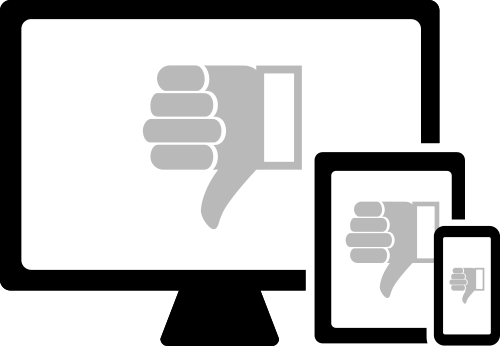 Right now "Responsive Design" is the talk of the town within the automotive space. Everyone is being sold on the idea that having a responsive site is the optimal way to obtain mobile search ranking and improve a visitors' smartphone experience. It does sound like a great solution when you can simply build once and publish across all platforms and devices. We all know that internet managers start to develop nervous twitches when discussing multiple web presences, CRM's, dashboards, etc.
Unfortunately, for the digital automotive industry, a responsive website is not the solution a dealership needs; it is just the next snake oil in a long line of promises that "will work." This may sound unsettling to some, but if you are interested in the hard facts vs. the hype, we've put together this paper that should help clarify facts while dispelling false claims.
IT managers and GM's alike: save this article for when you are exploring a new desktop or mobile package and be prepared for your next vendor meeting instead of just buying what they're selling.
"Responsive design will be hyped once again in 2013." Responsive design is not a "magic elixir...The consistency of experiences across devices is only one small element of the overall picture..."
Let's start with the basics...
WHAT IS A "RESPONSIVE WEBSITE?"
Responsive web design is a coding and design approach that allows you to have one, single website that adjusts in size and layout depending on the screen size, orientation, or platform. To develop a responsive site, software companies will implement html grids and layouts with a creative use of CSS media queries. In a nutshell, if the screen is re-sized, the design understands and begins to hide, move, or reshape menus, pictures, and search results. The goal is that you have a single piece of code that can work on desktops, tablets, and smartphones.
WHY DO DEALERSHIPS BELIEVE IT IS A GOOD IDEA?
Major software providers in our industry have hyped responsive design as the ideal way to maintain consistent URLs (same VDP URL for all devices) and uniform content across all devices. They claim that this increases the ease of website navigation and makes it easier for you to update content/inventory across all device sites (one backend dashboard to update content on desktop, tablet, and smartphone sites). They also claim that for SEO, this is the optimal way to get results.
HERE IS WHAT TO EXPECT IF YOU USE A RESPONSIVE SITE
You will in fact have one single system that is used for mobile, desktop, and tablet
Your responsive website will be built with a priority given to the desktop user over the smartphone shopper
When compared to a separate (speed-optimized) mobile platform:

Your mobile experience will be slower for your visitors.
The amount of time people spend on your mobile site will be less and the number of VDPs viewed by a visitor will be less
Return visits will be reduced
Now some hard facts...
While we readily admit that Google recommends that responsive design is the best way to deliver mobile content, there are several other options that are equally as acceptable or work better (as is the case in automotive). Google understands that in some cases, responsive design is perfectly fine for the user's experience (eg: blogs, text content, etc) but in other cases, a mobile or tablet specific design would be optimal (eg: ecommerce, product search/results, etc) for speed and conversions. If you believe that responsive design is the ideal route for our industry, look no further than some of the largest companies in the world. Ask yourself, why would companies like Walmart, Amazon, and Zappos invest millions in custom behavior analysis and web/mobile development and NOT have a responsive designed site? The answers are quite simple:
RESPONSIVE DESIGN IS NOTORIOUSLY SLOW:
The biggest downfall to responsive design is that it will inevitably be slower than an optimized mobile web app. This is because the sheer code required to make a responsive site is very large. Additionally, smartphones are often still downloading large images meant for the desktop and resizing them using code. Huge images and large amounts of code result in hefty download and incredibly slow page download speeds.
Large CSS Files
Dynamically resizing images (instead of pre-resized thumbnails)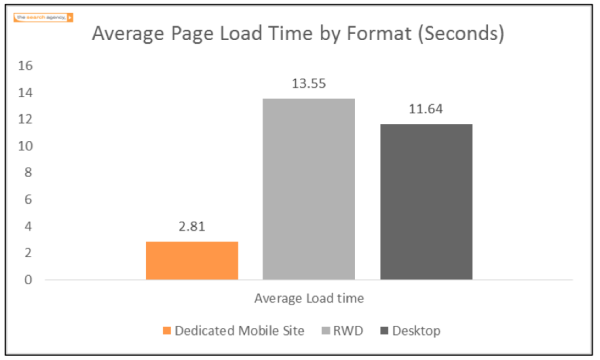 SPEED & EASE ARE PRIORITY # 1
On the mobile web, speed and ease-of-use are the biggest components that drive engagement and lead generation (conversions). In automotive, our development team has seen up to 50% better engagement and lead generation due to speed optimizations alone. That loading bar that everyone sees as a new page pulls up is the Achilles heel in a mobile experience. With inconsistent internet & data speeds, every page can take seconds to load. The more your customer waits for their search results to load, the less likely they are to stay on your site...and the less likely they are to return.
Our conversion rate optimization team has seen the same dealer go from average time-on-site at under 4 minutes (with only 3 cars viewed) to over 8 minutes (and 7.9 cars viewed) per mobile shopper. The easier it is to quickly find what a mobile shopper is looking for, the greater the opportunity to get them submitting a lead, giving you a call, and visiting your lot.
SMARTPHONE USERS ARE DIFFERENT FROM DESKTOP USERS
According to major automotive search verticals, desktop shoppers browse your site to do more research and understand the overall market. In contrast, smartphone shoppers are much further down the buying funnel and much closer to making a purchase: they are on the go, looking for dealerships, or planning their visits to your lot. Their needs are different and thus the user experience must be different. A responsive design that resizes the pages and hides certain menus/content is not optimal for a fast and easy user experience. Mobile users need something that can be navigated with one hand, no drop-down menus or text boxes, and will give them the search fields they need with ease.
With a responsive system, the ability to dramatically modify the experience, search results, and incentives that cater to the mobile user is inherently difficult. There are sets of complex code which require full-system modifications in order to accommodate even modest changes. For this reason, your ability to request specific, mobile-friendly modifications to a company providing a responsive system will likely be met with heavy resistance.
OPTIMAL SEO DOES NOT REQUIRE RESPONSIVE DESIGN
Google has made a blanket recommendation for responsive design; however, the reasons and context for this recommendation are often not understood. Responsive design ensures that Google will only crawl one set of code, and one set of pages. This generalized recommendation makes sense for companies that do not have the coding resources to properly develop and format both a desktop and mobile site. Despite what you may have been told and see on every other vendor's website, Google accepts other options that are equally (or more) effective for search engine optimization. As we said earlier, some of the largest companies in the world use these techniques instead of responsive designs.
A separate mobile URL is a perfectly acceptable alternative to dynamic HTML or responsive design in Google's eyes. Responsive design advocates who state otherwise should take the time to review
Google's writeup
on how to build smartphone-optimized websites. Separate mobile URL's can maintain the search engine ranking value if done correctly. Separate mobile sites should use a "canonical tag" (rel="canonical") in their html to tell Google that the page a user (or search bot) is currently on represents the mobile version of another URL (ie: the URL to the VDP's desktop page).
What you may not currently know is that Google also tracks a site's load speed and punishes slower loading sites. Site speed not only impacts user engagement, lead generation, and your brand perception, it now also impacts search engine rankings. Google and other companies have developed case studies that definitively show how smartphone customers have little to no tolerance for slow-loading mobile sites. Google wishes to keep its customers satisfied with its results and chooses to demote those sites which load slower and have less engagement.
The alternatives to responsive design...
DYNAMICALLY SERVING DIFFERENT HTML ON THE SAME SET OF URL'S
If a large software company is to provide the best desktop, user, and mobile experience for its customers, they should dynamically serve different HTML on the same set of page. From a coding standpoint, this means that before any page is shown to the user, the system determines what kind of visitor will be seeing the content (desktop, mobile, or tablet) and then dynamically serves up very specific code/pages for that device. With a dynamic HTML setup, the user only downloads the code and images that are relevant to that particular device. This differs from the responsive approach of serving up all the code for all devices and then modifying what is being seen.
This method, albeit often faster than responsive, is still slower and leads to dramatically lower user engagement when compared with a speed-optimized mobile web app. The reason for this is due to the fact that the traditional website paging structure (the teardown and rebuild of each page) still persists. For example, when a user clicks to go to the next page, the next page is downloaded and loaded from a blank slate. This strategy does; however, ensure that the same URL is used for all devices and Google recognizes a single set of URL's.
SEPARATE MOBILE "WEB APP," OPTIMIZED FOR SPEED & USABILITY
A mobile "web app" is still a mobile website; however it takes the look and feel of a native mobile app that is installed on your phone. Web apps are run by a phone's browser and are often written using HTML5, JavaScript, and new CSS3 techniques. Visitors first access them as they would access any web page; however, the experience, speed, and native-like functionality are obvious difference makers. All of these characteristics of a mobile web app are achieved through a fundamentally different way of constructing the website platform. With a true mobile web app (like CarPursuit's platform), traditional website paging and navigation is replaced with app-like instant page loads and fast drill-down searches.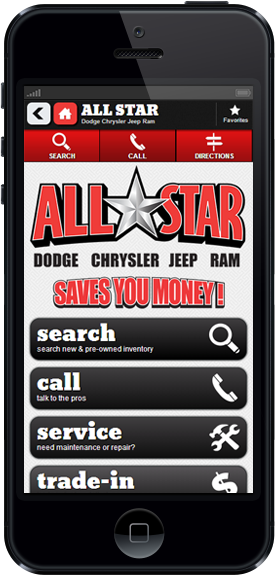 This is accomplished through the use of pre-loaded content, "lazy loaded" content, caching, and a complete abandonment of page teardowns (ie: parts of the app persist across clicks without being destroyed and re-loaded with each new page).
If built correctly, the benefits of a separate mobile web app have been proven to be more effective than all other forms of mobile sites in the automotive industry.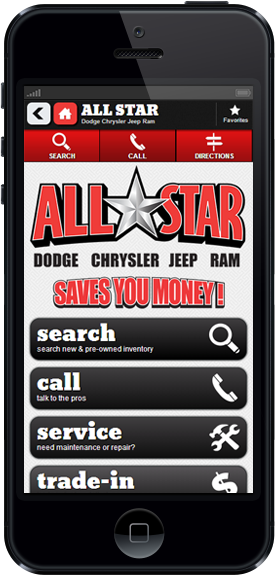 A separate mobile web app not only offers the search engine ranking value but it allows for better customization, faster load speeds, and dramatically more quality leads.
Need to see what we are talking about? Pull out your phone and visit
carpursuit.com/demo
to test our mobile web app platform...try a few inventory searches and then compare it with your existing mobile site.
Conclusion
Take a moment to realize that your mobile-optimized website is the face of your brand. Now viewed by a majority of your current and future customers, your mobile presence embodies the brand you have been trying to build for so long. The design, look, feel, speed, and the ease-of-use of your mobile site represents how you are viewed by your local market.
Before you pony up the money to move your dealership to the latest responsive design system, understand that it is simply not the best solution for automotive dealers.
A responsive solution is great for developers who do not have the resources to build and maintain multiple platforms; however, with the right team and the right platform, total mobile leads, and returning traffic will increase dramatically. If you have read this article and you still think responsive is best for your dealership, feel free to let us know why in the comments below and we'll do our best to respond directly; in the meantime, cutting edge competitors who provide a better, faster and more intuitive user experience with mobile will likely be stealing your customers.