If you've recently found yourself reading more articles about mobile's importance in Automotive, there's a good reason for that... it's because the mobile industry as a whole is exploding. With this rapid growth in a new digital medium comes an abundance (and maybe over abundance) of new advertising opportunities. In fact, so many opportunities are popping up with every new app, device, or site tool that it's tough for dealerships (and their vendors) to track down and understand what is working. Because of this growth and fragmentation, it's important to have a mobile-focused partner versus a general digital vendor.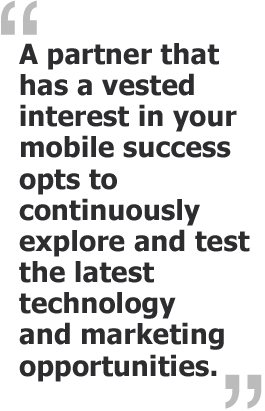 So what's the difference between a vendor and a partner?
By our definition, a digital vendor is generally a company that offers a basic website or mobile site and then charges for hosting or maintenance (SAAS). They aren't heavily involved in the customization or continual optimization process. Most companies that sell mobile sites offer them as a supplement to the larger package they've already sold you. Vendors really don't have the financial incentive to continuously improve their mobile offering since it is packaged as an incremental up-sell.
The biggest difference between a partner and a vendor comes in the arena of mobile advertising. Whether it be the latest contextual-based mobile ad ops or the next Foursquare, there are incredible opportunities opening up on a daily basis.
Vendors usually have a set package and a handful of "partners" that they work with (google, local newspaper website, etc). A partner that has a vested interest in your mobile success opts to continuously explore and test the latest technology and marketing opportunities. They make the advertising effectiveness transparent and offer packages that help you diversify and continually evolve your exposure.
Car Pursuit's interest lies in constantly researching and isolating these new opportunities that work. Our team's sole focus is on communicating with mobile ad networks, running tests, and building packages for our clients. Mobile moves quickly. It's important to put the burden on your mobile partner to ensure your job is easy and the results are transparent. We offer unparalleled marketing reach and innovative opportunities with proven results.
Moral of the story: Shop for your mobile partner the same way you do for your website or CRM provider. If they can't help you keep up with the changing mobile landscape or improve your ability to market, then keep shopping.